Error the ssis runtime version is too low for this Oracle connector
Você está desenvolvendo um projeto de Integration Services para Oracle no SQL Server 2019 e seguiu o tutorial em https://docs.microsoft.com/pt-br/sql/integration-services/data-flow/oracle-connector?view=sql-server-ver15.
Ao realizar o deploy da solução, você se depara com alguns problemas, um deles, pode estar solucionado neste artigo. Confira!
Sintoma
Ao executar um pacote do Integration Services através do Catálogo, onde a fonte de dados é Oracle, você está recebendo a seguinte mensagem de erro:
"The ssis runtime version 15.0.200.5 is too low for this Oracle connector. Please install a newer version of ssis (later than sql server 2019 rtm)"
O erro é encontrado nas mensagens conforme imagem a seguir: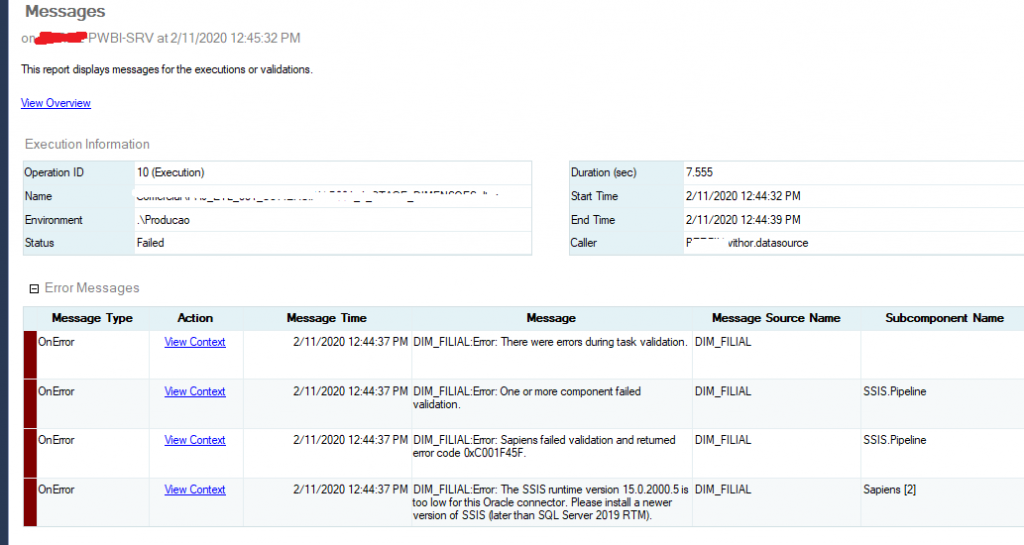 Provavelmente você está utilizando o Microsoft Connector for Oracle V1.0 – Preview e não observou que há uma restrição que é "Microsoft Connector for Oracle does not support the version lower than 15.0.4003.23 in SQL Server 2019. Please installed the latest CU patch for SQL Server 2019 in order to use Microsoft Connector for Oracle. Link for SQL Server 2019 CU1"
Ou seja, este conector só funciona no SQL Server 2019 acima de 15.0.4003.23, por isto, é necessário atualizar no mínimo para o SQL Server 2019 CU1. Outro ponto importante, este conector somente funciona em SQL Server Enteprise.
Resolução
Faça o download do SQL Server® 2019 for Microsoft® Windows Latest Cumulative Update em https://www.microsoft.com/en-us/download/confirmation.aspx?id=100809
O update é bem simples, depois de baixar você irá iniciar o instalador e seguir no NNF (Next, Next, Finish):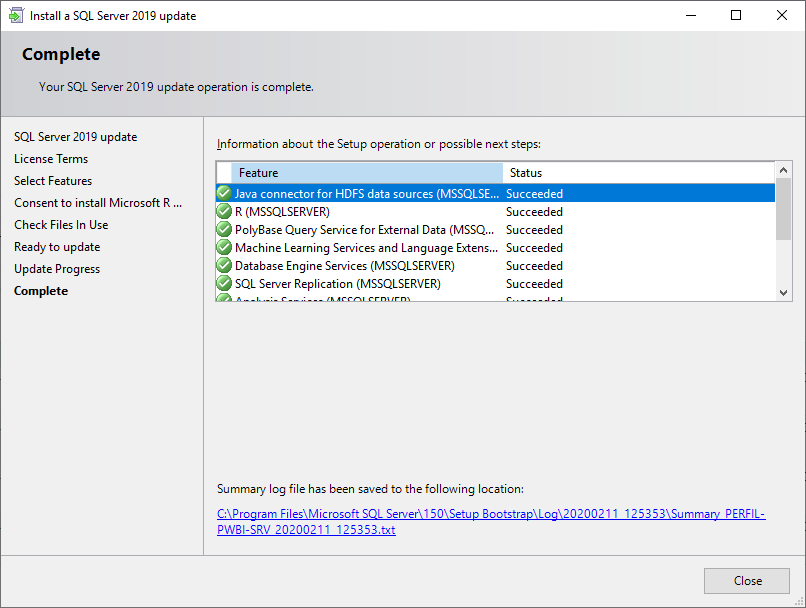 Haverá a necessidade de reiniciar seu servidor, se é um ambiente de produção, faça este update de forma programada!
Até breve.
Vithor da Silva e Silva | Consultor e Instrutor | SQL Server e Power BI
vithor@datasource.expert